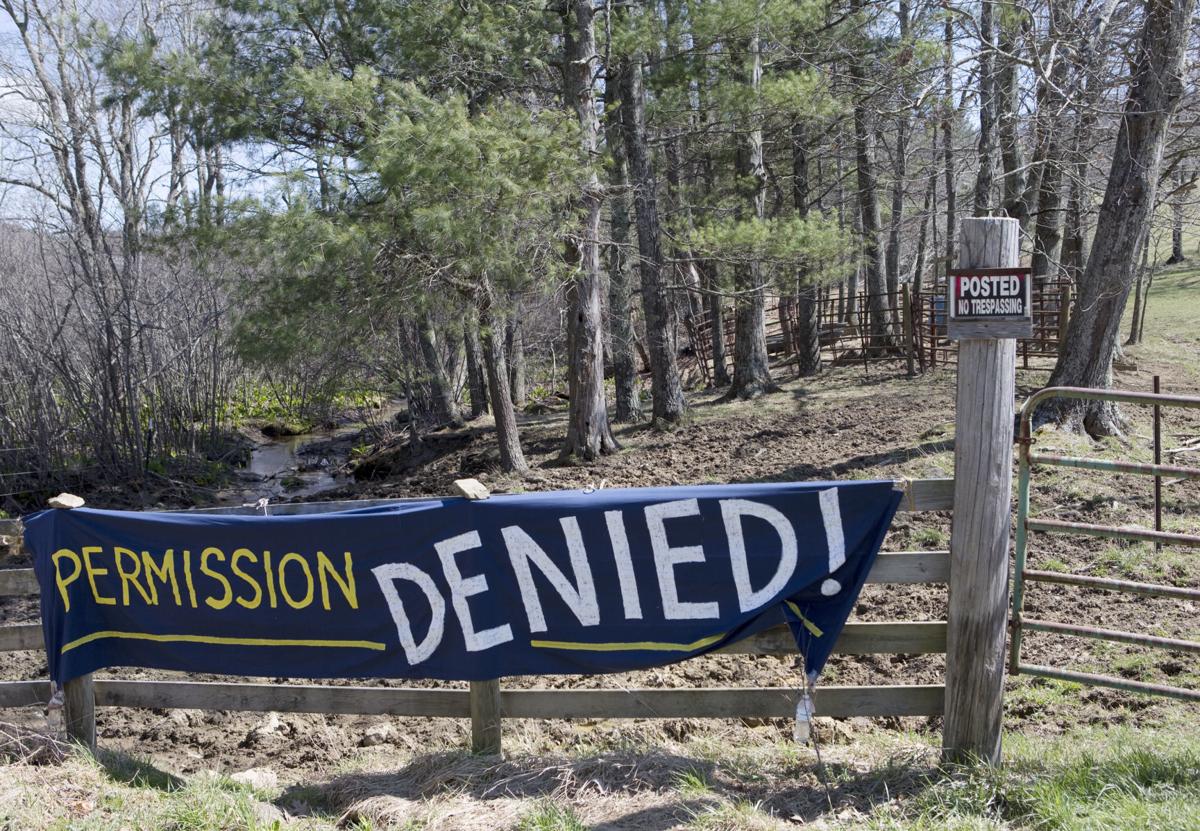 Mountain Valley Watch, a grassroots group, has met with the Virginia Department of Environmental Quality about monitoring impacts of the Mountain Valley Pipeline construction, but does not have an agreement with the agency to do so. This story has been updated to reflect the correct information.
Franklin County staff will now be permitted to go on site where Mountain Valley Pipeline crews are working, after the Board of Supervisors voted Tuesday to sign an agreement with the Virginia Department of Environmental Quality.
The Memorandum of Agreement states that the county will be able to come on site with DEQ officials to monitor activity and report any concerns that they see.
The MOA was presented to the board in March by Steve Sandy, director of planning and community development, but was tabled after board members were relucant to sign it. The agreement stated that DEQ would offer the county safety training once the pipeline was complete, so they would be equipped with knowledge on what to do in the event of problem. But board members argued that they wanted training upfront, in case a situation arose when the pipeline was being laid.
When and where the training would take place is unclear.
The 303-mile natural gas pipeline will run from northwestern West Virginia to southern Virginia, straight through Franklin County.  The pipeline, which is 42 inches in diameter, will cross through Boones Mill, Wirtz, Glade Hill, Union Hall and Penhook.
Although there are county supporters of the pipeline, many who oppose it have made their voices heard, and protestors have taken to the trees in some areas, especially in West Virginia.
"My initial reaction was I was sick to my stomach," Wendell Flora told the News-Post in February. The pipeline is going through three-and-a-half acres of Flora's family farm in Boones Mill.
 "At the time I understood it was going to go in another direction and I felt for the ones whose property it was going to go through."
He then found out MVP was going right through his farm, which he described as gut wrenching.
Supervisor Ronnie Thompson, who represents the Boone district, said he was opposed the pipeline since the start. He said it's hard to prepare for the unknown, and he's concerned about "the big ugly scar that's going to be cut through our county that's never going to go away."
Board member Mike Carter opposes the pipeline as well.
"I'm not opposed to the county obtaining natural gas," Carter said in February. "But no one has been able to demonstrate to me that there will be jobs associated to this pipeline."
He also expressed concerns about the "man camps" where the workers will be housed, and of the long-term benefit of natural gas for the county.
"In 30 years natural gas may not be viable," he said. "I'm trying to look long-term for the citizens of this county."
Mountain Valley Watch, a third party citizens group will monitor pipeline construction from outside the areas of disturbance. The group had talked with DEQ about an agreement to monitor construction, but did not enter into a formal contract to do so, according to 
Board member Bob Camicia asked if there was going to be a citizens group to monitor construction, why should the county sign up.
Thompson argued that the citizens group may run into problems monitoring the pipeline if they are trespassing on a landowner's property.
"My initial thought was if the citizens wereable to do the same thing that we were going to do, does the county staff need to be kind of in the middle?" Sandy said. "If the citizens will have an avenue to get directly to DEQ, my thinking before was that's the role we were going to play, to be able to be that mediator between the citizens and DEQ.
"I'm not sure all of our concerns were addressed through the plans that have been approved by DEQ," he added. "I don't know if signing the MOA allowing us to be on site is going to ensure that there are no issues with the construction activities because, again, our authority is very limited. Actually, we have no authority when it comes to enforcement, so it would just be an additional set of eyes on the project."
Carter argued that DEQ, Mountain Valley Pipeline and the Federal Energy Regulatory Commission will all have inspectors on site to monitor activity.
"I don't see this board tying up Steve and his staff with DEQ," he said. "There's no point to it."
Camicia said he feared that if the board didn't sign it and a problem arose, they wouldn't be permitted to go on site to address concerns and report back to DEQ.
"I tend to agree that this is a DEQ project, however, we have some responsibility to our citizens regarding the erosion and the issues," he said. "That's one of the big concerns that we have because it could be going into Smith Mountain Lake which is one of our bigger assets."
DEQ did approve plans to protect the land from erosion and sediment and storm water runoff. In that agreement, any pipeline construction affecting streams and waterways throughout the county must be submitted for review and approval to protect water quality.
Camicia argued to sign the MOA saying the board owes it to the citizens of the county.
"In that case we would at least be able to tell our citizens that we reviewed it, and we looked at it and we've gone after DEQ," he said. "I don't see this other than making sure our citizens are comfortable and we're comfortable that DEQ is doing its job as its supposed to."
Board member Tim Tatum said he had mixed feelings about it.
"If we don't sign this and calls come in about complaints, all Mr. Sandy can do is give out a number, so they can call someone who has authority, like DEQ, over the pipeline," he said. "If we do sign it, we're reserving the option or involving  Mr. Sandy and investigating these complaints and acting as a liaison for our citizens of Franklin County to go to DEQ with these complaints."
He added that he liked the idea of having a citizens group monitoring the pipeline, but also sees the benefit of having the county involved as well.
The board passed the agreement on a 6-1 vote. Mike Carter voted no.
Board members also discussed the option of requesting an odorant to be put in the pipeline in the event of a leak. The odorant would give off a pungent smell in the case of a leak, giving anyone in the area warning.
 "This Mercaptan [odorant] is put in when it comes to the local distribution center," Billy Ferguson, county director of public safety told the board.
He said that the odorant is not usually put into pipelines. Sandy added that it is not required.
Camicia questioned if the odorant was not required in pipelines for a reason.
"If it's not put in for good technical reasons, we need to understand that before we go forward," he said. "If it's not a problem one way or the other than I have no problem with it. We need to do some research and understand technically, is it a problem if we start inserting this stuff into a major distribution line."
Carter argued that whetherit's procedure or not, the odorant would be of benefit to fire and rescue and the citizens.
"Citizens could detect it way out here in the rural parts of the county, and that's my point," he said. "I don't see any harm in us requesting it, whether or not they're going to do it I don't know but it would certainly provide a safety measure for citizens and public safety if there was a leak."
Tatum said that adding the odorant would be "good business" for MVP. Adding the odorant would probably be an extra cost, he said, but it would lead to a quicker notification if there were a leak along the pipeline.
Sandy said he would get more details on the odorant and come back with a report for May's board meeting.
Get local news delivered to your inbox!
Subscribe to our Daily Headlines newsletter.