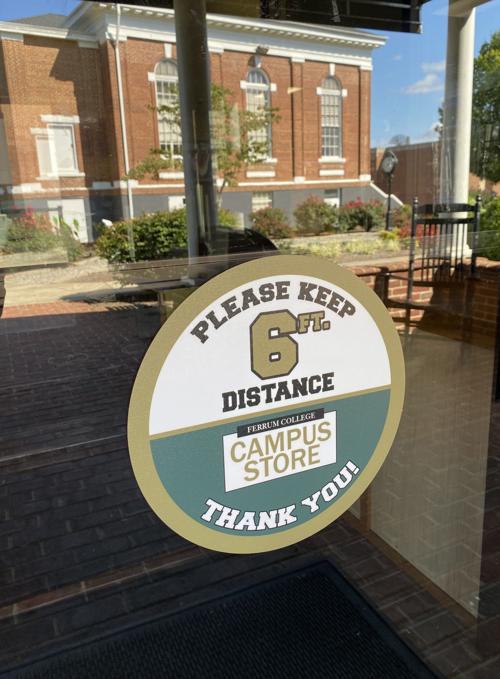 Ferrum College will be welcoming back students in less than a month as classes are set to begin Aug. 25.
Much like K-12 education, college education will look differently this year due to the COVID-19 pandemic.
The small, private liberal arts college transitioned to online learning in March as did colleges and universities across the nation. While students were not asked to leave, they were given the choice to remain on campus or return home depending on their comfort level and need.
Ferrum College President David Johns described the scene back in April. "Students began leaving for home — a dozen one day, a hundred the next. Then, staff members joined faculty by working remotely from their own homes. Like musicians walking off a stage, one by one, during a symphony, the music of campus is now only a whisper."
In May, the college's graduation ceremony was held virtually as many across the nation were held online as well. By the end of the month, Johns announced in-person learning would return in August. The reopening plan, which has been approved by the State Council of Higher Education for Virginia, reflects that there will be two terms during both fall and spring semesters in an effort to keep class sizes smaller for social distancing.
Faculty and furloughed staff will return to campus Aug. 1.
Term I classes begin Aug. 25 and end Oct. 5, followed by two exam days, Oct. 7-8. Term II classes begin Oct. 12 and end Nov. 20 with exams Nov. 23-24. Johns said wrapping up the fall semester by Thanksgiving effectively eliminated a long holiday break to minimize risk if students travel during the break. Campus will close after the November exams and remain closed until spring semester begins in January. Spring term classes will begin Jan. 19.
Each course will be a hybrid of online and face-to-face instruction as well.
"We polled students twice, once early on and again in July, asking what they wanted," Johns said. "An overwhelming percentage wanted to come back for in-seat instruction."
Students and faculty/staff are asked to monitor their health for 14 days before returning to campus and log information into an app called LiveSafe that asks questions related to COVID-19 symptoms — including temperature checks, exposure and testing. Check-in for students must be completed online this year, and lists of what to bring to campus are revised due to the pandemic as well.
Instructions on Ferrum College's Stronger Together website, which was put together because of the pandemic, ask students to bring minimal belongings in case the state gives an order to close. Items that may not have been suggested before include face coverings — which will be required for both students and employees — hand sanitizer, hand soap, a thermometer, cleaning products and a packed go-bag. The go-bag's purpose is in case someone needs to be moved to quarantine. Suggested items include changes of comfortable clothes, toiletries, a cup, sheets, a towel, activities, snacks and medications.
Johns said rooms have been identified as designated areas for quarantine use should the need arise, and the reopening plan outlines response plans for an outbreak and partnerships with the Virginia Department of Health and other local health systems to assure care for symptomatic individuals.
Move-in will be limited to the student and a maximum of two helpers, according to the reopening plan.
Appointments will be required for meetings with the registrar, financial aid and other student services this semester.
The Stronger Together website includes information from what to do if an employee or student becomes ill to cleaning standards. Johns said the president's cabinet has been meeting almost daily to plan for the upcoming semester, and the college even has a pandemic coordinator now. Nicole Lenez, who is also the dean of students, serves as the pandemic coordinator.
Some classes will still be taught online, and Johns said all faculty received training over the summer for online instruction.
"In the spring everyone across the country was caught by surprise, no one went into the semester thinking they would have to transition to online on a dime," Johns said. "Everyone did the best they could, but we want to be ready for whatever happens so all of our faculty are receiving this multi-week certification program so they've got the tools they need to make the switch if that needs to happen."
Johns said Dean of Graduate and Online Education Studies Dr. Sandra Via spearheaded the training for the 65 faculty members.
Other changes the coronavirus pandemic has brought about include little to no events at least during fall semester. Johns said visitors are not permitted into the building without prior arrangements, including resident students who will not be permitted to have non-student visitors without permission from the Office of Residence Life and Housing.
Clubs and organizations, including fraternities and sororities, will have strict limitations on programming and meeting. The Office of Student Life and Engagement has partnered with Event Services staff to ensure only approved student organization events with the proper protocols can receive eservations.
Johns said exhibits at the Blue Ridge Institute and Museum are closed until further notice. The popular Blue Ridge Folklife Festival, normally held on the fourth Saturday in October drawing thousands to campus, was canceled in April due to concerns surrounding the coronavirus. Johns said there may be some virtual homecoming event, but nothing had been announced yet. He added he wasn't ruling out a homecoming celebration next spring if guidelines relax by then.
Ferrum's conference, Old Dominion Athletic Conference, voted to postpone conference competitions; there will be no sports played at the college this fall. Winter sports won't return until at least after the first of the year.
Cleaning and sanitation practices will be increased with common areas being cleaned throughout the day, and class schedules have been modified to allow more time between classroom uses so housekeeping staff can clean.
"All faculty, staff and students will be asked to sign a Community Health and Well-Being Covenant, which basically says we all have to care for ourselves and each other to have a successful semester," Johns said. "It's on all of us not just one group of people."
Get local news delivered to your inbox!
Subscribe to our Daily Headlines newsletter.