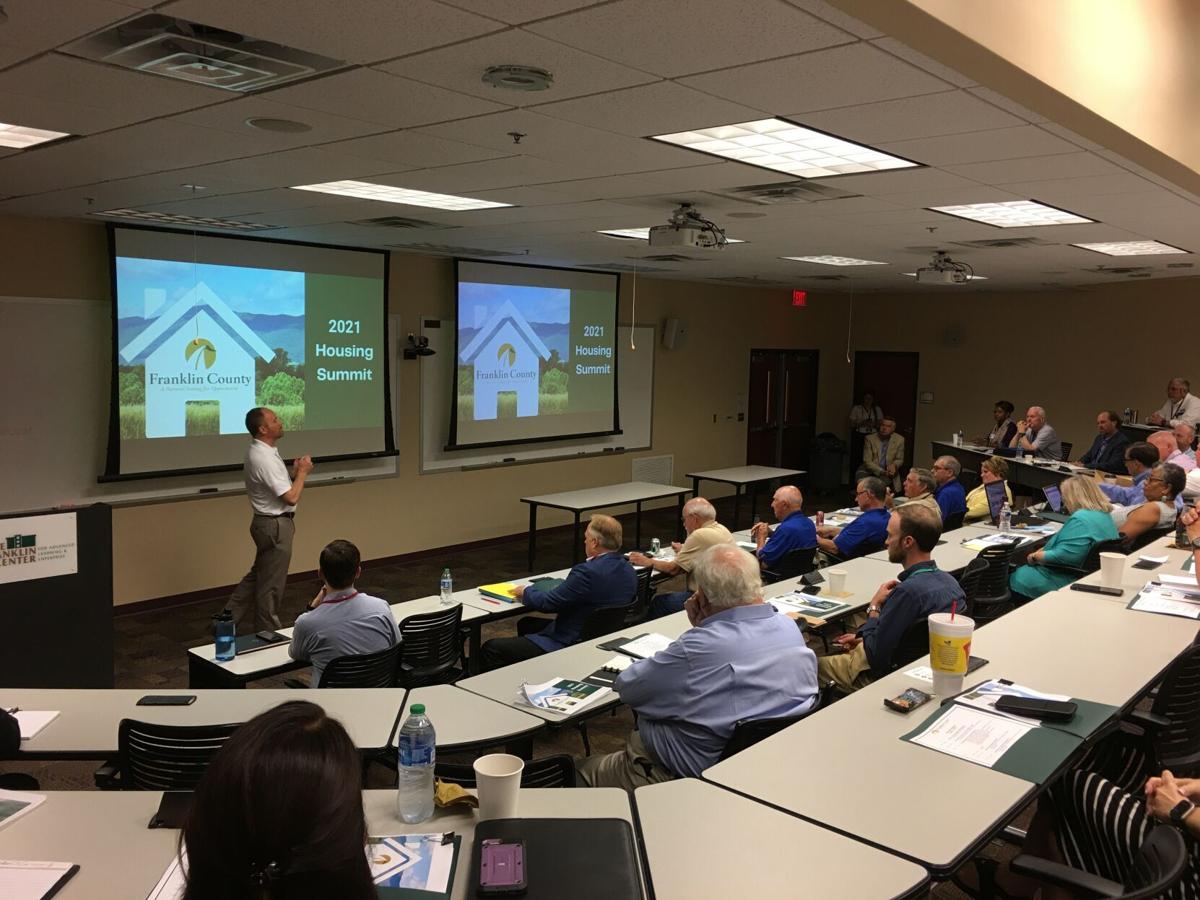 Developers, real estate professionals and county leaders joined together for a housing summit June 3 at The Franklin Center in Rocky Mount. It was expected to be the first of several meetings in the works to address the growing need for housing in Franklin County.
The summit came together following a report presented to the Franklin County Board of Supervisors last year that found a lack of homes available for purchase or rent in the county. Only 1.7% of the homes in the county are available for purchase, according to the study. Rental options are even worse with less than 1% available.
Patrick Bowen, president of the Bowen National Research Group, presented the housing report in September. He returned to the county June 3 to give an update on the report for local real estate agents and developers. He said the pandemic and the booming housing market has likely led to a decrease in available homes since the report was completed last year.
"I guarantee you if I looked at that data today, that vacancy rate and availability rate has shrunk even further," Bowen said. "So there is even less available today."
In a good market, Bowen said the amount of available rentals should be about 6%. Available homes to purchase should be about 3%, he said.
Another concern for Bowen was the cost of homes that are available in the county. More than 60% of the homes available for purchase in the county cost more than $300,000 which is out of reach for many, especially first-time home buyers.
"There is not a lot of product, and what is here is really expensive," Bowen said.
The lack of available housing is not just something Franklin County is facing, the issue can be found statewide. Jonathan Knopf, senior research associate with Housing Forward Virginia, presented a recent statewide study that showed a significant increase in demand for apartments and homes.
Knopf said much of the issue statewide is due to historically low interest rates and more people able to work from home which makes relocating to a new area easier. High demand and high costs is also a factor for those interested in building a new home due to supply chain and labor issues brought on by the pandemic.
No area of the county has experienced the major increase in home demand and sales as much as Smith Mountain Lake. Tom Fansler with Berkshire Hathaway Homes Service reported on the significant increase in home demand at the lake since the start of the pandemic.
Before the housing market collapsed, 800 waterfront properties were sold at Smith Mountain Lake in 2005. That number dropped to 340 the following year and went to a low of 235 in 2009 before slowly rebounding. In 2020, a 20 year high of 804 waterfront homes were sold.
Due to the high demand, waterfront homes at Smith Mountain Lake sold last year at 17% above their tax assessed value, according to the report. The increase is also not limited to waterfront homes, so far this year in Franklin County, homes are selling at 35% above their tax assessed value.
With such a high demand, Fansler said there is an immediate need for more housing throughout the county, not just at Smith Mountain Lake.
In an effort to make constructing homes and developments easier in the county, Franklin County Administrator Chris Whitlow asked home builders at the June 3 meeting to give the county input on what can be done to improve the process.
"We need to know what we can do better," Whitlow said.
Nick Jones with Donald B. Jones and Son was one of several home builders who attended the meeting June 3. He said the housing summit was a good first step in addressing needs in the county.
While Jones said there have been concerns in the past over the permitting process in Franklin County, he admitted it was much better in recent years. He said the shortage could be partly due to a drop in spec homes constructed by home builders.
Many home builders, especially around Smith Mountain Lake, would purchase property ad build spec homes that had no buyer attached with the expectation that a home buyer would come later. He said many construction companies who built spec homes went under during the collapse of the housing market in 2006 and those that survived are more hesitant.
Homes sales and demand are at an all-time high that could be good conditions for increased home building in the county, according to Jones. He said builders could just be afraid to risk overextending themselves only to have the housing market collapse once again.