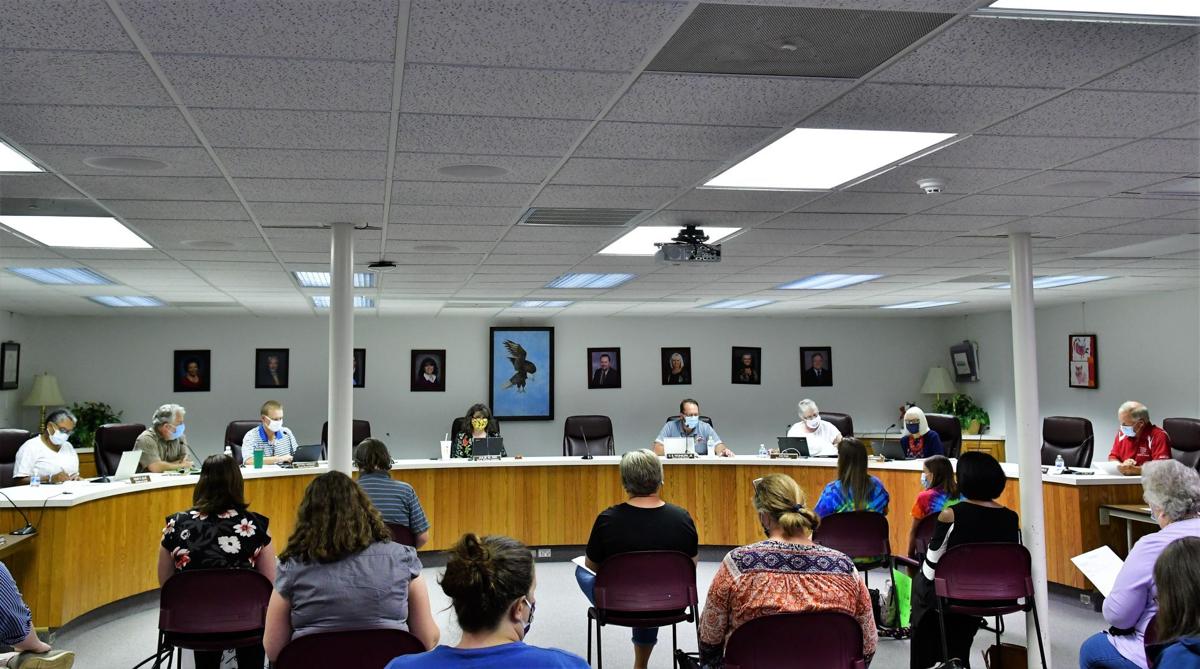 Franklin County students will return to classes two days a week for in-person learning and receive three days of virtual instruction under the school board's adopted plan.
The board voted Monday night 6 to 1 with board members Penny Blue voting against the plan and Donna Cosmato abstaining.
Cosmato expressed concern over internet access but Franklin County Public Schools Assistant Superintendent Sue Rogers said Chromebooks pre-loaded with assignments so students could work off-line would be made available for those without internet access.
Blue moved to return to all students to online only classes, but the motion gained no traction. Several other plans were voted on during the two-hour meeting. All were voted down but the final option, which will have students in all grades, pre-k through 12, in school two days a week starting Sept. 8. Students will be scheduled in cohorts A or B. Cohort A will be scheduled for in-person learning on Monday and Tuesday, while cohort B will be scheduled for in-person learning on Thursday and Friday.
Early childhood special education students will attend school four days a week.
Students from the same home will be scheduled for in-person learning on the same days.
The board agreed Monday night that face coverings will be mandatory and voted to add the requirement to the dress code. Exceptions for medical purposes are expected to be discussed at the board's next meeting.
Board member Jeff Worley (Rocky Mount District representative) said he favored the A/B plan but said for students to return to classrooms, they will need help from the community.
"It is important, and it has been impressed upon the importance of students being in school, but we need to set standards … we will need the community's help in asking them to wear masks," Worley said, explaining that so many people in the community refuse to wear them.
Echoing Worley, Greer said, "If the community would come together and wear the masks, if we could just adhere to that, we could get rid of the virus."
Families will still have the option to participate in 100% online instruction. During the meeting Monday night, Rogers said that more than 380 students have registered for online only so far.
The approved plan was originally proposed by Superintendent Dr. Mark Church in July, but the board opted, during its July 13 meeting, to return only pre-K through second graders to in-person learning five days a week while students in grades 3-12 would receive online instruction. However, a week later, citing that more time and input were needed, the board voted to delay the start of school until after Labor Day and continue to weigh its options.
The school board heard public comment for nearly an hour during a July 27 public meeting from teachers and parents who wanted students back in school.
A survey was also sent to teachers last week asking for them to choose one of four options for reopening the schools. The options given included 100% virtual for all students; pre-K through second (or third) grade in person 4 to 5 days a week with others 100% virtual; A/B schedule for all; or pre-K through 12th grade in school five days a week.
Nearly 51% of teachers responded with a vote for the A/B schedule. The second highest response was for the 100% virtual reopening, which received 21.8% of the vote. Returning pre-k through second graders received 18.4% of the vote and only 9% were in favor of a total reopening.
The question was again posed what would happen if a student or teacher exhibits symptoms of COVID-19, and again the administration said it would seek guidance from the Virginia Department of Health.
Nancy Bell, population health manager for the West Piedmont Health District, said Tuesday that responses will be situational; however, she said the guidance would be if a student exhibits symptoms he would be quarantined immediately, and the school's COVID-19 coordinator would contact VDH. Bell explained that parents would be contacted to pick the child up, and the area where the student had been would be disinfected and students who may have been in the same class will be moved to another area. She said the recommendation is that a student not return to class until at least 24 hours after experiencing the last symptom.
Bell said if a teacher experiences symptoms it becomes "more complicated" but said if the teacher social distances and wears a mask as required, then "that can do a lot to stop the spread."
Get local news delivered to your inbox!
Subscribe to our Daily Headlines newsletter.