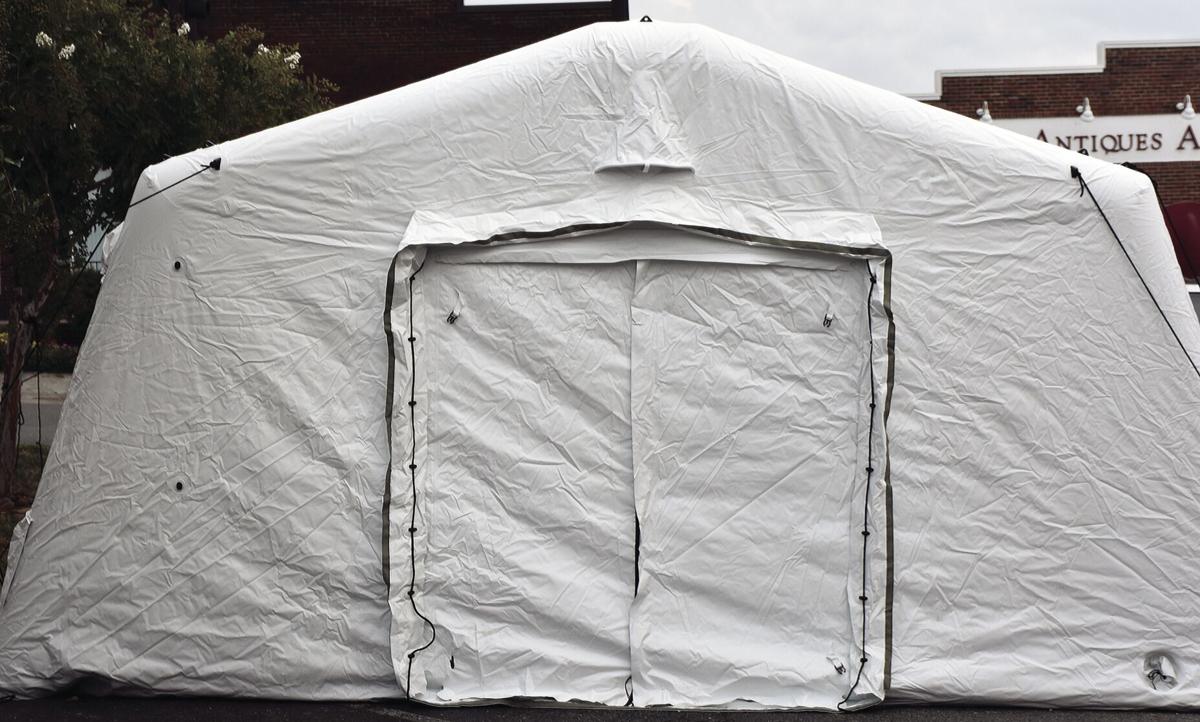 An outdoor climate-controlled tent was set up adjacent to the emergency department at Carilion Franklin Memorial Hospital on Monday.
The tent is being used to provide additional emergency department waiting room space for patients and visitors in order to allow for greater social distancing.
When announcing the installation of the tent, Carilion noted that it will not be used as a patient care area. Additionally, Carilion said there will be no changes to services at the hospital.
The hospital is asking that those who need emergency care enter through the main emergency department. It is also reminding the public to only go to the emergency department when appropriate.
As of Wednesday, the Virginia Department of Health's COVID-19 locality breakdown showed the seven-day average number of daily new cases reported for Franklin County as being 25.
Yesterday, a joint statement from regional localities and healthcare providers, including Carilion Clinic and the Franklin County Department of Public Safety, asked for the public's help as local emergency room use rises.
"We are here, ready and passionate about caring for you. It's our calling and privilege to care for community members during their worst moments. The increase in COVID-19 cases and the impact that the virus has had on our region weighs on all of us. It's even more difficult when preventable emergency room traffic complicates delivering care," the statement said. "Our commitment through it all remains steady: We are here to protect you. If you aren't sure about getting the vaccine, talk to your primary care physician or ask any one of us about it. We aren't here to judge you; we're here to help you and to best care for you."
The statement also asked the public to seek the appropriate level of care, get vaccinated and wear a mask and keep distance from others. "More than 85 percent of those currently hospitalized for COVID-19 in our region are unvaccinated," it noted. "The vaccine is the best way to keep yourself and your loved ones healthy and out of the hospital during the pandemic."
According to the statement, local hospitals have started using a method called "hospital diversion." The practice means that area EMS teams take incoming patients to the nearest emergency room that is not on diversion, giving the first emergency department time to decompress. While "diversion" is a request from hospitals, the statement noted that patients will be taken to the closest, more appropriate hospital regardless of diversion status in the event that a patient is too far away from a hospital that is not on "diversion" or if multiple hospitals are on "diversion."
"All of our teams are working to care for our communities. We are working through yet another wave of this pandemic, continuing to provide life-saving services-and not just to COVID-19 patients," the statement said. "It's critical that we reserve our hospital emergency rooms and rescue squads for medical emergencies. Please do your part to stay healthy and out of the hospital."