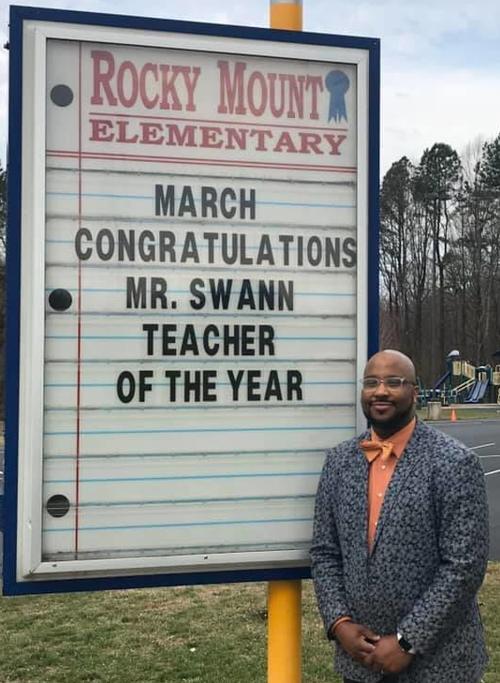 Anthony Swann, a fifth grade teacher at Rocky Mount Elementary School, has been named Franklin County's Teacher of the Year for the 2019-20 school year.
The announcement was made May 7 during a Facebook Live event honoring Franklin County Public Schools educators and support staff.
Assistant Superintendent Sue Rogers led the event, which was held during Teacher Appreciation Week. She announced the winner after the principal of each county school introduced and praised their respective Teachers of the Year.
"These individuals were nominated by colleagues, students and parents," Rogers said. "They are commended for their dedication to educating our young people and for being an integral part of the learning community."
Swann, a Danville native, said serving children is his life's passion. After spending over half his childhood in foster care, he said he said he developed a deep love for children.
"I never want to abandon my children like my father abandoned me," Swann said. "I want them to continuously feel the love from a male's perspective, because that's what I lacked. I want to be to them what I never had – a consistent male figure that shows love without any motives."
Swann also discovered his love for school while in foster care.
"I would play school every single day to escape the trauma of being rejected by my parents," Swann said. "Playing school was my place of peace. I would say being a teacher has always been my dream. It gives me joy to continuously see my students strive for excellence in all that they do."
While teaching at RMES, Swann implemented the Guys with Ties program, which he said has been one of his most memorable accomplishments.
"It's not unusual to see the young men wearing ties and saying 'yes, ma'am' or asking 'how can I help you,'" said RMES Principal Dr. Lisa Newell. "On Valentine's Day this year, Mr. Swann led the young men to give every girl in our school a baggie of chocolate and a carnation flower. He did that to teach young men how to treat young women, and that's something the students will never forget."
"We were able to reach some young boys this year," Swann said. "Seeing the young boys' faces and their eagerness to learn more about being a gentleman has been very rewarding."
Newell said a parent stopped her recently and expressed that their sons have completely changed the way they act as a result of having Swann in their life.
"He begins every class period of every day with a song for his students," she said. "He has a way of grabbing their attention at the very beginning of every lesson. He teaches in such a way that everyone will remember forever the content area. He teaches manners and kindness to students. He lifts them up because he really values their self-worth and he makes sure he has positive interactions with every child every day."
Swann said he is grateful to God, his building administrators and to all his fellow colleagues.
"Thank you to all of my colleagues that have believed in me," he said. "It truly is amazing to work with such wonderful people that share my same passion for children. It was a teacher who changed my life and told me I didn't have to be like my biological parents. Serving children is what I live for, and I am honored to serve as Franklin County's Teacher of the Year."
During the Facebook Live event, School Board Chair Julie Nix congratulated the honorees and commended them on their dedication to students.
"This is not the celebration or year we were planning," Nix said. "It's been challenging, sad, frustrating and scary. But, it's also been ground-breaking, innovative, creative, collaborative, connective and inspiring."
This spring's distance learning seemed like an impossibility, "but, all of you took the impossible and showed it who's boss," Nix said. "You learned new online platforms to reach your students. You sent them cards and letters in the mail to let them know you were thinking about them. You created Facebook groups, called and texted your babies to make sure they were OK. You formed car caravans to drive to the homes of children having birthdays so they could watch their very own birthday parades and see that their school family loved them."
Nix said she and the rest of the school board are particularly proud of this year's learning community.
"These uncertain times would be considered an insurmountable barrier to most people but your ingenuity, resourcefulness, kindness and caring helped our children continue to learn and grow while showing them what it meant to be connected to one another even when we couldn't be together," she said.
Peers, colleagues, parents and students chose their Teacher of the Year for their respective schools.
"These honorees all represent a larger group of outstanding educators who work tirelessly to help our students learn and succeed," said Superintendent Dr. Mark Church.
Church referred to this school year as the year of the health care worker, the first responder and of the teacher.
"This story will identify our teachers and support personnel as the true heroes of our community during these trying times," he said while addressing the teachers. "This year we asked you to teach differently and you answered the call. On the fly, you organized instruction that could be delivered online and through paper. Then you realized that our students needed your continued love and nurturing. To that end, you kept in continued contact with our students and their families and today you continue to give them the emotional support that they need. Our Teachers of the Year exemplify the greatness of our profession."
Franklin County's Teacher of the Year received a trophy, a check for $1,200 and $500 to spend in his classroom.
All other honorees received $300 each.
Prizes were made possible through donations from area businesses, including Turner's Dock Building, Capps Home Building Center and Carter Bank and Trust.