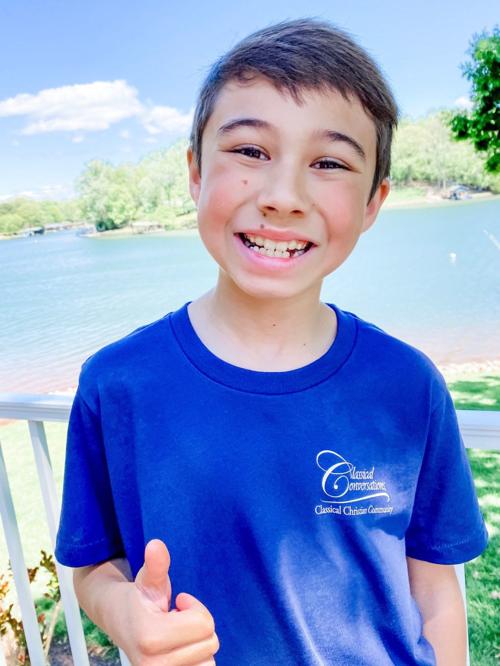 Submitted by Judy Wiseler
Two students from the homeschool community, Classical Conversations of Franklin County, recently capped months of study by correctly reciting more than 400 facts from a multitude of subjects as part of the Classical Conversations Memory Master program.
The two students who earned the Memory Master award in April are 9-year-olds Donnie Annas, who just completed fourth grade; and Ian Brubaker, who completed third grade. Each child spent approximately five hours total recalling facts from six subjects, as well as a history timeline that spans from creation to present day.
Classical Conversations is an academic homeschool group that follows the Classical Education model. Memory Master is a program that is available to all elementary aged Classical Conversations participants nationwide.
Besides a chronological timeline of 160 events and people, the students had other subjects of study such as history — including the world leaders and countries of World Wars I and II, the formation of the United Nations, the fall of communism in eastern Europe and free elections in South Africa — and science, which included facts in ecology, astronomy and physics, including the laws of thermodynamics and Newton Laws of Motion. Other areas of study included geography and bodies of water in the Euro-Asian continent, Latin verb endings in the first conjugation, English grammar facts and math, including multiplication tables, common squares and cubes, basic geometry formulas, and unit conversions.
Classical Conversations is a nationwide, Christian program for home educators in grades K-12 that helps train and equip both students and parents. Classical Conversations campuses meet for 24 weeks during the school year for elementary grades and 30 weeks for high school levels.
Classical Conversations hosts a free three-day homeschool conference for parents each summer called Parent Practicum. This year the conference will be held online.
To learn more about Classical Conversations or the online parent practicum, contact Judy Wisler at wisler03@aol.com or connect through the public Facebook page, Classical Conversations of Franklin County.
Be the first to know
Get local news delivered to your inbox!