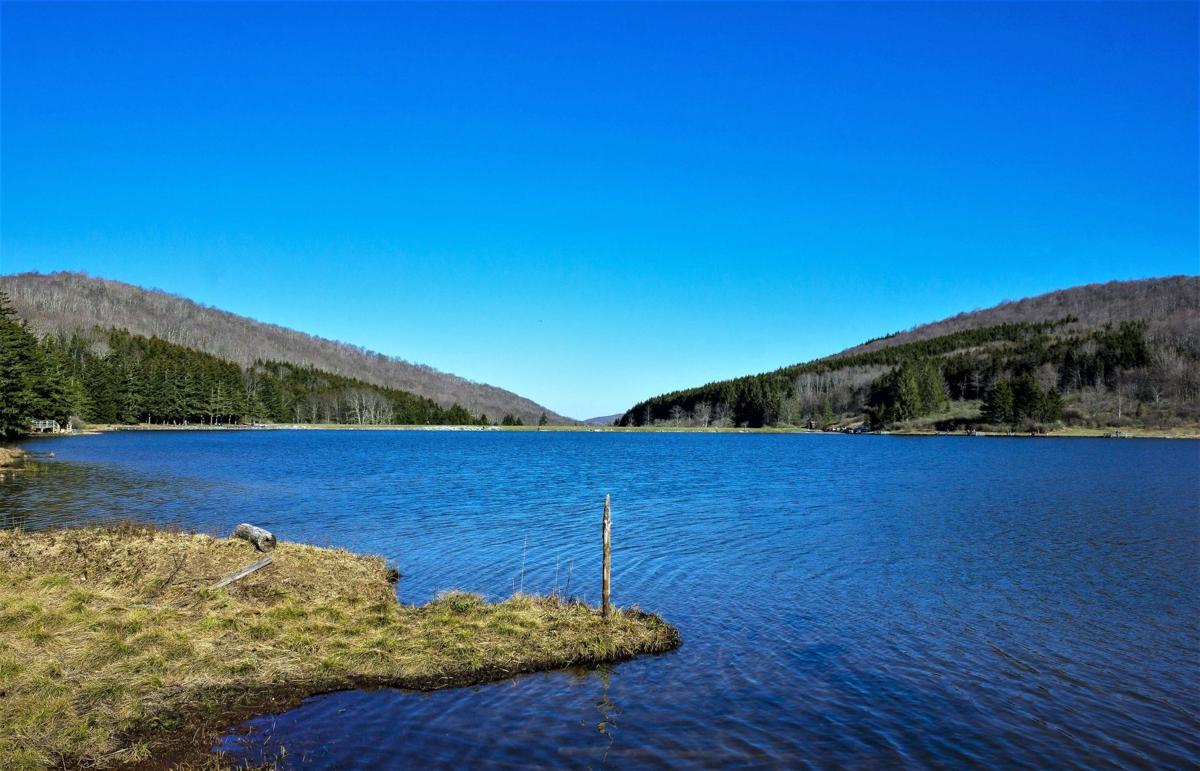 There is a magical memorable energy that invariably comes with those special first-time experiences in the wild. Those experiences always seem to give us the most lasting and vivid memories. This was indeed the case for me with my initial experience spelunking.
My host and guide for this adventure was my dear friend, John Hollandsworth. I can't rightly say he was much of a guide though, since this would also be his first caving experience, which would ultimately prove to be a problem for us. I will say he acted like he knew what he was doing and was always great fun to be in company with.
Our destination was the Monongahela National Forest, which, in the name alone, already had a magical air to it. More specifically we were headed to the campground of Spruce Knob Lake; a lovely 25-acre trout stocked lake nestled in the forest just below the peaks of Spruce Knob Mountain. At 3,840 feet, it is the highest elevated lake in all of West Virginia. I truly don't have enough flowery words in my vocabulary to do this spot justice. It is that stunning.
John had picked this campsite due to the fact that it was within hiking distance of our ultimate destination, a place called the Sinks of Gandy. The Sinks is a cave in the middle of a privately-owned cow pasture through which Gandy Creek flows. According to West Virginia Explorer, "A journey through the 'sinks' is a favorite rite of passage for many naturalists and beginning cavers, especially on hot summer days." It sounded delightful, and I was anxious to get there.
The plan was simple. We would leave our respective schools early on Friday, drive up to the campground before night set in, do some hiking and caving on Saturday, then pack up and return Sunday morning. John had a first date planned with his eventual wife, Jodi, on Sunday night, so we were on a tight schedule. She would end up being the topic of most of our conversations the entire weekend, giving me the added role as a sort of dating counselor.
The drive up was beautiful, and we had made great time. The quick three-hour jaunt had us at the entrance of the Spruce Knob National Recreation area, and it was only 7 p.m. We turned on to a narrow gravel road that would take us directly to the campground. It also marked the beginning of our crazy weekend adventure.
The road wasn't necessarily rough, but it was quite narrow and had these serpentine curves that were so sharp it was like making u-turns. After about 15 minutes, I remember John confidently saying that, "we should almost be there." About five minutes later we passed a sign that read: Spruce Knob Lake 11 miles.
Now 11 miles normally doesn't sound like much of a drive, but when your maximum speed is about 20 mph, it's getting dark, and you are in the middle of nowhere, it proved to be plenty far enough. Added to all this excitement was the warning light on the dash of John's old Dodge truck telling us that the radiator wasn't going to take much more of this.
Better late than never, we finally found our campsite and nestled in for the night. It was too late and dark to investigate our surroundings, but when the sun arose on us the next morning, we were both overwhelmed with the beauty of our weekend home. Spruce Knob Lake Campground should be added to everyone's bucket list.
We spent the morning wandering the forested trails around the lake, then headed to the Sinks around noon. We were to meet up with a caving club for our adventure through the Sinks. This was news to me, but I was happy to hear that we would actually have an experienced guide on this adventure.
We drove the truck down to the caving site even though it was still showing overheating distress signals. We climbed over an old wooden fence and entered a large cow pasture to get to the entrance of the cave. As we walked across the field, I spotted an odd object off to our right — it was blackish, round and bobbling on top of the ground. We both moved closer to get a better look.
What I assumed was some strange animal was the head of a man, just the head mind you. The rest of his body was still underground. We watched as he dragged himself out of this tight hole in the ground, covered in mud from head to toes. Upon pulling himself completely out, he bent over the hole and yelled, "I am out, come on up." In amazement we watched two more men drag themselves out of this tiny muddy hole in the ground.
I looked at John sternly and said, "Tell me that's not what we are doing." He laughed and responded no, but I could sense much uncertainty in his answer. We continued on until we found the entrance to the cave.
The entrance to the Sinks is quite extraordinary. Gandy Creek flows directly into a rock cave entrance that is about 30 feet wide, 15 feet high and plenty dark inside. It was becoming difficult to differentiate between excitement and apprehension at this point.
The apprehension was magnified by the fact that there was nobody else there. We waited a good 30 minutes but our caving group, and knowledgeable guide, were nowhere to be found. John rationalized our dilemma by convincing me that we had inadvertently found the exit to the cave and not the entrance, and if we go ahead in, we would eventually meet our group.
There is a term in the glossary of spelunking words for this; it's called "speleo-buffoon." It is a derogatory term referring to cavers who are unprepared and make poor decisions. Anyway, these two buffoons waded into the ice-cold water of the creek and into the cave.
It didn't take long before my fears melted away into the sheer amazement of what we experienced inside — it was mesmerizing. I was surprised by the amount of light our headlamps provided us. Every turn and bend of the passage brought us stunning visuals. There were narrow passages and large ceilinged rooms and so much to investigate. The total length of the cave is only about 3,000 feet, but we spent over an hour exploring every inch of it.
What we never saw was the group we were to join up with. Gradually we began to see the sunlight ahead of the cave's exit. I had a profound sense of pride overwhelm me that we had successfully navigated a cave without help. As we exited we finally found our group outside preparing to enter, and we strutted up to them flaunting our spelunking expertise.
That's when I turned and looked at the cave's exit that we had just come out of. It wasn't the exit at all, but instead it was the same entrance that we had entered just an hour ago. Yes, these two spelunking experts were just speleo-buffoons who got turned around in the cave and came out the same place they had entered.
In the end, it was fun. It turned out to be quite safe, and it was indeed wild.
I wish I had time to take you through the rest of our adventure because the fun had really just begun. To summarize, the truck radiator did indeed blow up. We got stuck in this wilderness heaven an extra four days and John missed his important first date but managed to overcome the mishap and marry Jodi. We discovered much of the beauty of the Monongahela National Forest, including the magnificent Seneca Rocks. This is indeed a bucket list destination for any wild enthusiast, and the Sinks of Gandy is a must adventure. Now, go get wild!
Catch the latest in Opinion
Get opinion pieces, letters and editorials sent directly to your inbox weekly!