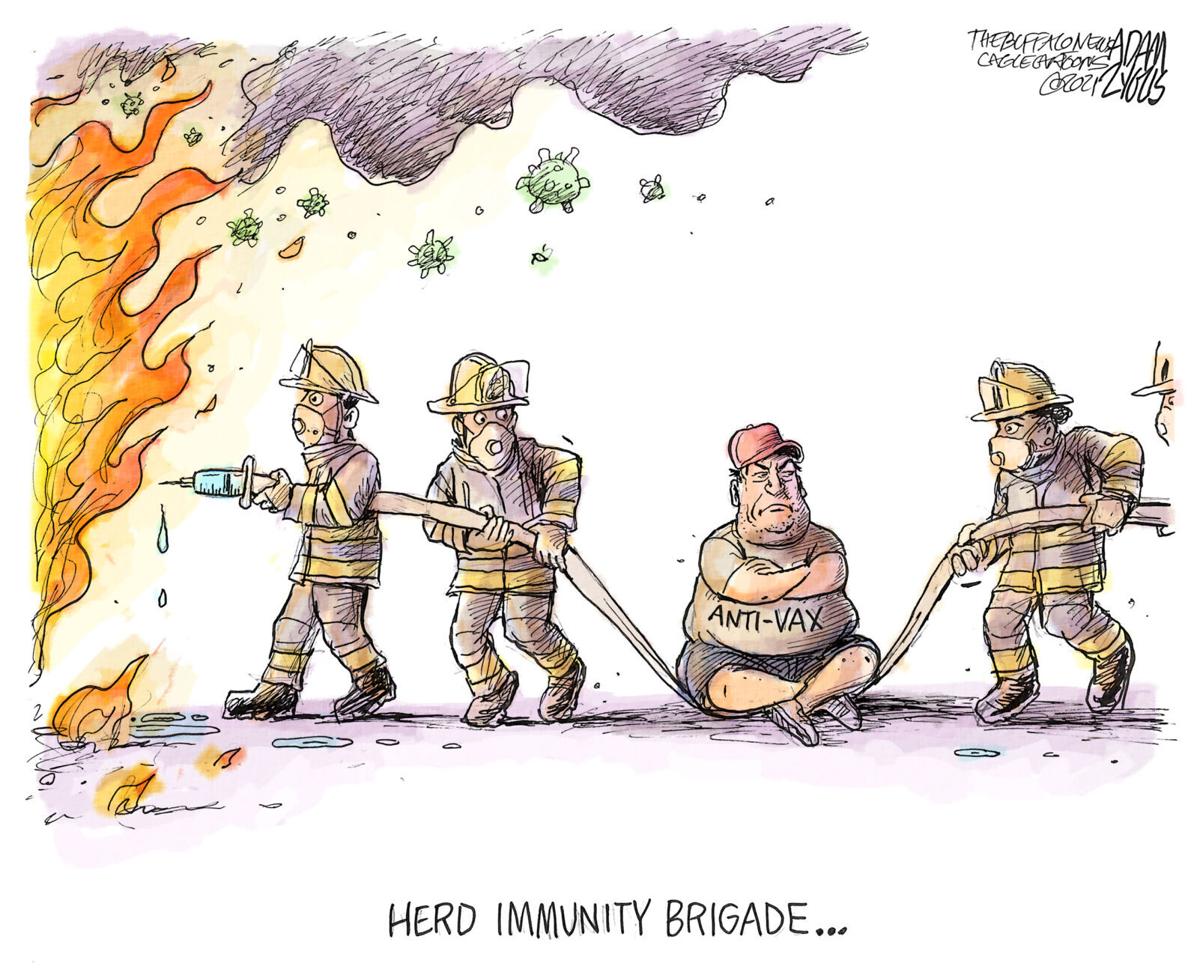 High school football teams are forced to "pause" their practices.
More than 80 students at Patrick County High School are in quarantine following a COVID-19 exposure. In Fauquier County, the number is 224.
Hospitals are once again counting how many ICU beds they have available as patient counts rise.
All this is completely predictable, given the perniciousness of the COVID-19 virus and the willful refusal of many people to heed science or even show just a smidge of concern for their neighbors.
The adage "united we stand, divided we fall" has rarely been more applicable. The oddity is that much of the vaccine hesitancy is coming from the right, which has typically been more enthusiastic about overt signs of patriotism, and the most enthusiasm is coming from the left, which once celebrated "do your own thing."
The ideological poles have reversed. Some so-called conservatives are acting more like '60s hippies. Maybe next they will burn their vaccination cards? Oh wait, they don't have any.
As we've pointed out before, the vaccination divide isn't purely a left-right divide or, as some have described it, an urban-rural divide.
Some conservative-voting suburban areas are quite well-vaccinated.
In suburban Roanoke County, 70.8% of adults (and 60.7% of the total population) have had at least one dose. (For our purposes today, we'll go with the percentage of total population because we need to make some comparisons where those are the only stats available.)
Some conservative-voting rural areas are quite well-vaccinated, as well.
In Lancaster County, over by the Chesapeake Bay, 64.3% of the population has had at least one dose, so there's a conservative-voting rural county with a higher vaccination rate than even some liberal urban areas — Arlington comes in at 63.4%, Alexandria at 62.6%.
There are lots of conservative-voting rural areas in Virginia with similar vaccination rates. Goochland County is 66.7% of the total population; Nelson County is 61.7%, Hanover County is 61.6%; and on and on.
No, the vaccine gap is really concentrated in just two parts of the state — Southwest and Southside. Why those conservative-voting rural localities are so different from other conservative-voting rural localities is a cultural mystery we have yet to fathom.
Lee, Carroll, Patrick counties rank as the three least-vaccinated localities in the state — with one-dose rates of 36.5%, 36.6% and 36.9%. Almost everywhere else in Southwest and Southside comes in somewhere in the 40% range.
All this deserves to be put in context.
The most vaccinated country in the world is the United Arab Emirates, where an incredible 84% of the population has had at least one dose, according to data compiled by The New York Times.
By contrast, the most vaccinated locality in Virginia is Albemarle County where 69.7% have had at least one dose. Don't trust the UAE data? In Canada, 73% of the population has been vaccinated. In Great Britain, 71%.
They may be countries Americans can identify with but some others have even better vaccination rates. Singapore and Qatar are 79%; Uruguay is 76%, Chile and Denmark are at 75%. Meanwhile, Lee, Carroll and Patrick are posting vaccination rates comparable to Azerbaijan (35%) and Guyana (37%). To be blunt, they have intentionally put themselves in the same category as Third World nations.
Here's one of many baffling questions: Why have some citizens of the country that pushed hardest to develop vaccines refused them?
These vaccines are not 100% the product of American ingenuity — the Pfizer vaccine, for instance, has some German origins. But broadly speaking, yes, these are the product of a lot of American ingenuity.
Americans ought to be proud of what American companies and American scientists have done here.
The rest of the world was looking to us, waiting on us, and we delivered. If you want to thank former President Donald Trump, go ahead. There are many things he could have done differently that could have slowed the spread of the virus — both in terms of action and rhetoric — but his administration did put up the money that helped accelerate development of some (though not all) of these vaccines.
(The Pfizer-BioNTech vaccine did not take Operation Warp Speed money. Instead, it had funding from the German government of Chancellor Angela Merkel. If you got that vaccine, thank her.)
Given Trump's propensity for branding, you'd think he'd want to be claiming more credit for these vaccines, and holding rallies that double as mass vaccination clinics.
You'd also think that people in the localities that voted strongest for him might respond more enthusiastically about getting a vaccine that can be associated with his administration.
For a long time, Canadians looked anxiously across the border, complaining that they had no domestic pharmaceutical industry and were going to be left behind.
Then, when vaccines finally became available north of the border, a bigger percentage of Canadians got vaccinated than Americans. They're still looking anxiously across the border, just for different reasons. Why are some people who live in the world's greatest superpower reacting as if they live in some undeveloped backwater nation?
Craig County's school board this week loosened the county's mask requirements. Craig has a case rate comparable to Italy, one of the most hard-hit nations early in the pandemic. It also has a vaccination rate of just 40%, putting it on the same par as Brunei. (Italy is now at 68%). But, sure, let's ditch those masks.
The highest virus rate in Virginia has been in Galax, where the 1,220 cases so far measure out to a rate of 18,994 per 100,000. Only two nations in the world have a rate that's higher: The Seychelles, an island nation in the Indian Ocean, and Andorra, a tiny principality wedged between Spain and France. Both are in the 19,000 per 100,000 range.
Galax so far as recorded 53 deaths due to the virus. That's a rate of 825 per 100,000. If Galax were a country, it would have the highest death rate in the world. Peru is the highest at 608, followed by Hungary at 308 and Bosnia-Herzegovina at 294.
Perhaps because of Galax's high virus rate, and high death rate, it's the most vaccinated locality west of Roanoke County. Even so, Galax's rate is still relatively low — 50.6% have had at least one dose. That puts it on the same level as El Salvador (51%). Again, not a flattering comparison. El Salvador may have access issues; that's not the case in Galax.
Many in Southwest and Southside opted for Third World vaccination rates. Elections have consequences. So do choices of all kinds.