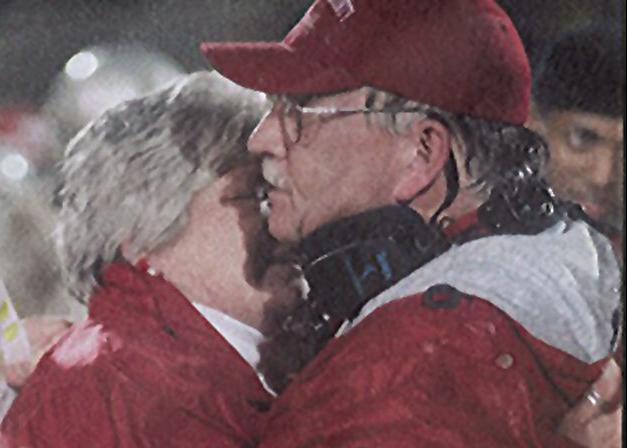 Editor's Note: This story detailing Franklin County's first on-field football victory over George Washington-Danville was published in the October 28, 2002 edition of The Franklin News-Post.
First, Franklin County's Eagles rallied in the rain and the mud, then, they celebrated in it.
Third-year head coach Billy Miles didn't join his team in its jubilant mud bog, but he didn't put a stop to it.
All this excitement at C.I. (Cy) Dillon Stadium-Fred M. Brown Memorial Field was the result of a fourth-quarter rally by FCHS which enabled the Eagles to erase a 14-point deficit for a 15-14 Western Valley District football victory over George Washington (GW)-Danville Friday.
Miles may have viewed his team's impromptu party from afar, but it's not the first time the veteran field coach has been part of such gridiron joy caused by a come-from-behind win.
"In 30 seasons, there have been a few, but I don't know if there have ever been any sweeter,'' Miles said.
Playing in its regular-season home finale, FCHS sent its senior class out with a single-season, school-record tying seventh win – a victory that leaves the Eagles alone in first place in the WVD with two district games remaining.
FCHS (3-0 in the WVD, 7-1 overall), which shared last year's league title with Cave Spring by virtue of a series of Danville forfeits because of the use of an ineligible player, can complete an undefeated district campaign with road wins over the Knights and E.C. Glass, which are a combined 1-15 this season.
The win is FCHS's second, one-point triumph this year, and its first on-field victory over Danville in program history.
FCHS has been behind at some point in four of its seven wins to date.
Jermaine Richardson's 34-yard punt return for touchdown and Kevin Evans' extra-point kick with seven and half minutes left produced FCHS's first and only lead.
Because of a clipping penalty on a kickoff, Danville was backed up to its eight yard line and was forced to punt from the four.
Richardson caught the punt, juggled it, and then he regained control. Five to 10 yards into the return, he trampled in mud caused by a day of steady rainfall. His leg strength provided him with an extra gear to get through the man-made slop.
"I was worried (when I juggled the ball), but not too much,'' Richardson said. "All I had to do was get control of it. As soon as I caught it, I looked for a seam, saw it and took it to 'the house' (the end zone).
"The coaches always tell me that if you get in a tight spot, keep driving your feet. I ran into a little mud, but I got out of it,'' said Richardson, who made up for a first-half turnover with the score and by catching a 10-yard pass for a first down on the Eagles' first touchdown drive.
Danville had two chances to recapture the lead.
A first drive, one that featured two pass hook-ups between quarterback Cameron Martin and Kenny Lewis, ended on a fourth and 12 play from the FCHS 23 yard line when Martin was called for intentional grounding while under a heavy rush.
The visitors' last march came after FCHS committed its last blunder – a fumble – and ended when Martin overthrew wide receiver Donald Lyons, whom Richardson was defending, and LeBryan Patterson intercepted the pass.
Secondary defender Jermaine (Rock) Gill also played a key role in helping FCHS protect its lead. Although he did give Danville a first down when he was called for pass interference, he prevented Martin from connecting on three other attempts.
Danville coach Everett Woods took the blame for his team's setback.
"I didn't give my kids a chance to make big plays,'' Woods said. "It was a matter of being too conservative. I got conservative. We didn't want to turn the ball over.
"I didn't give my kids the opportunity to make plays. We've got great speed and I kind of took that away from them with the play calling.
"My kids played their hearts out. Franklin County beat me, they did not beat my football team,'' Woods said.
Friday, FCHS pitched a shutout for three-plus quarters after Danville turned its second and third possessions of the game into a 14-0 lead.
FCHS was its worst enemy in the opening half as it committed four of its five turnovers – three lost fumbles and an interception.
The Eagles managed a second-quarter safety when defensive end Brandon Fellows tackled Martin in the end zone.
The count remained 14-2 until the fourth quarter – a period in which FCHS registered seven of its 11 first downs – when Miles brought junior Daniel Brooks out of his quarterback bullpen.
Brooks engineered a drive featuring runs by Patterson (20 carries, 88 yards), Brian Huff (10 carries, 72 yards) and Richardson's reception. It was capped by Huff's seven-yard scoring run – his seventh touchdown of the season.
Danville blocked Evans' point-after touchdown try, leaving FCHS six points in arrears, 14-8.
Greg Thompson (127 yards) and Lewis scored for Danville on runs of eight and 13 yards. Thompson gained 108 yards in the first half.
Be the first to know
Get local news delivered to your inbox!