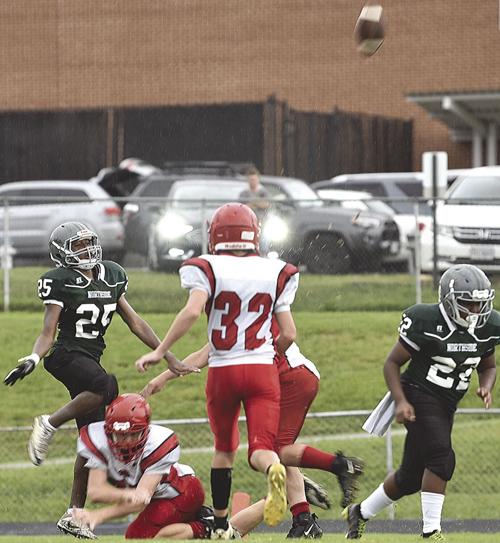 ROANOKE - Paced by a 16-point second half, Benjamin Franklin Middle School broke a halftime stalemate and defeated Northside Middle School, 24-8, in a Roanoke Valley Middle School District football game Tuesday at Vikings Stadium-Jim Hickam Field.
BFMS (1-0 district, 2-0 overall), playing for the first time since a season-opening rout of Patrick Henry's middle school team on August 19, opened league play with the win.
COVID-19 issues had kept the Eagles away from the field for a week, BFMS head coach Chris Renick said.
"We came out a little rusty after having to shut down last week,'' Renick said.
BFMS took its initial lead on its first play from scrimmage, then reclaimed the lead in the third quarter and enhanced it with a touchdown in the final, eight-minute frame.
Running back Ja'ziel Hart sprinted 58 yards for the Eagles' first TD and after a successful 2-point conversion, the count was 8-0.
Hart normally plays quarterback for BFMS, but he was  moved to running back for this game because starter Rashawn Hughley was missing from the line-up, Renick said. Winston Davenport made his first start behind center.
The Noresmen produced their lone points near the end of the first half courtesy of a 10-yard TD run by their quarterback, followed by a successful 2-point conversion.
"We made some adjustments at halftime with personnel and other things,'' Renick said. "In the second half, we got back to our old ways of playing downhill football. We knocked a little of that rust off.''
After BFMS's defense stymied Northside on downs, Hart ignited an Eagles' TD march with a 55-yard run and finished it with scoring dash two plays later from inside the red (scoring) zone.
Colton McGuire's successful 2-point conversion run enabled the Eagles to double the spread, 16-8.
The Eagles would recover an onside kick to retain possession, but their drive stalled.
The Noresmen were trapped deep in their territory and were forced to punt from their end zone.
BFMS's defense was able to rush Northside's punter and his kick appeared to be partially blocked. 
Three plays later, Davenport by threw a 15-yard TD strike to Isaiah Carter, then the Eagles made their third 2-point conversion of the game to finish the scoring. 
Northside did drive the football one last time, but no avail. Its final possession ended when Logan Angle intercepted a pass that secured the Eagles' sixth win in their last seven games dating to a shortened spring campaign.
Hart was named BFMS's Offensive Player of the Game and Nathan Hayes was chosen BFMS's Defensive Player of the Game.