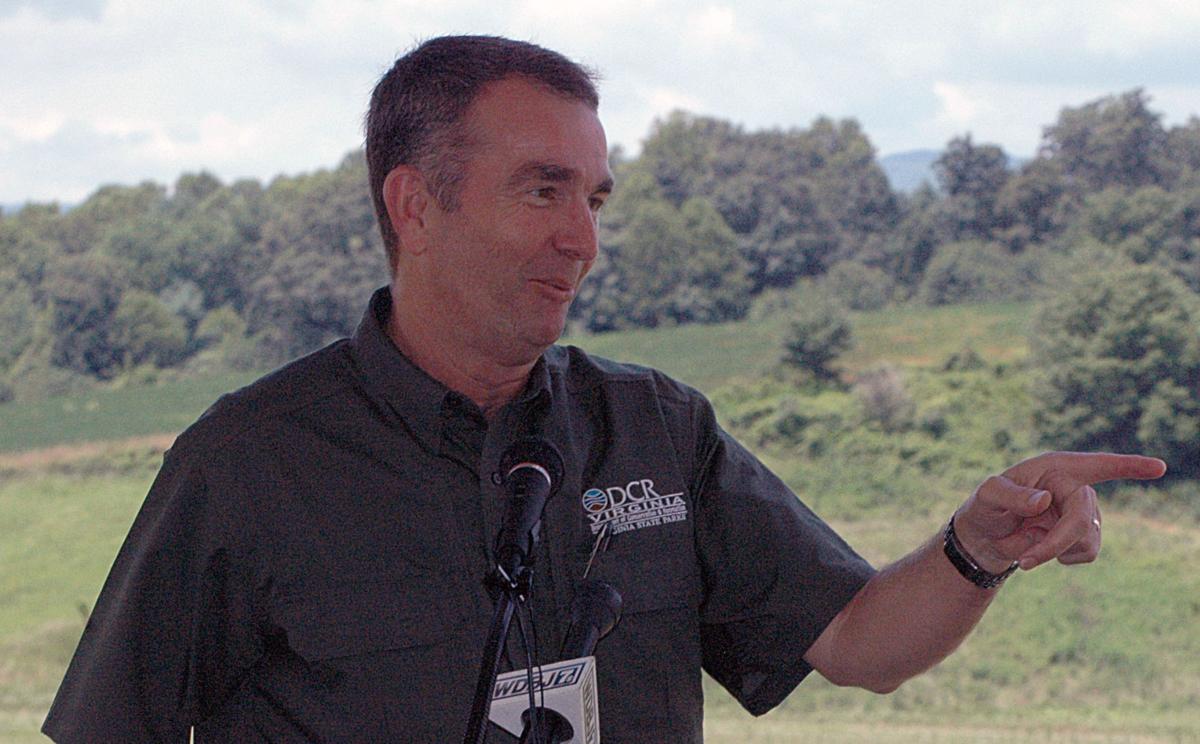 Gov. Ralph Northam made a stop at Summit View Business Park on July 18 to join Franklin County in announcing the expansion of broadband access to several underserved communities.
The visit was a continuation of an announcement in June of a $650,000 grant from the Virginia Tobacco Region Revitalization Commission to provide fiber internet extensions to more than 600 homes and 100 non-residential premises. The county will be placing 30 miles of fiber lines into communities in Hardy, Windy Gap, Burnt Chimney and the Summit View Business Park through a partnership with Shentel, Mid-Atlantic Broadband and Western Virginia Water Authority. Shentel's share of the project includes approximately 25 miles of fiber in four residential areas alone.
"This is all about our economy in the commonwealth of Virginia," Northam said about the expansion. He said broadband is vital to bring people and business to the county. "It is one of those examples of 'If you build it, they will come.' "
In addition to the $650,000 grant from the Virginia Tobacco Region Revitalization Commission, Shentel is investing $820,000 in the expansion and Franklin County is investing $100,000 for a total project cost of more than $1.5 million.
Franklin County Board of Supervisors Chairman Cline Brubaker touted the grant as a first step in a greater goal of providing broadband throughout the county. He said citizens shouldn't have to live with limited internet service.
"We are looking forward to many more announcements like this in the future," Brubaker said.
Gills Creek District representative and Franklin County Broadband Authority Chairman Bob Camicia said plans are to eventually provide broadband to 90% of the county. The authority is expected to make additional announcements on broadband expansion next month, he said.
Projects also include fiber placements in Summit View, along Brick Church Road and Grassy Hill-Callaway and Ferrum-Waidsboro.
Residents from one of the communities that will be receiving broadband in the coming months attended the announcement last Thursday. Kevin Liudahl, Bonnie McFie and Vickie Doak, who reside in the Walnut Run community in Hardy, said they will be receiving broadband internet by the start of next year. However, no timeline was given by county officials during the meeting for any of the projects.
Liudahl said residents have worked to bring broadband internet to the nearly 100 homes in the Walnut Run community for the past two years. They contacted several internet providers, as well as Camicia, their district representative, to see what options they had.
Doak said the community only had access to spotty wireless internet. "They told us it would have a better signal in the winter when there were no leaves on the trees," she said.
Eventually, the homeowners association contacted Shentel about providing the service. They were told it would cost them $100,000 to run 3 miles of broadband fiber line from Hardy Road.
The homeowners association for Walnut Run brought up the idea of charging each resident a portion of the cost — as much as $900. "People were willing to pay it," Doak said.
While debating the costs, the homeowners learned they would be one of the communities that will be receiving broadband as part of the Virginia Tobacco Region Revitalization Commission. Now the residents are looking forward to finally being able to go online to do things most people take for granted.
"We got the best case scenario," Doak said.