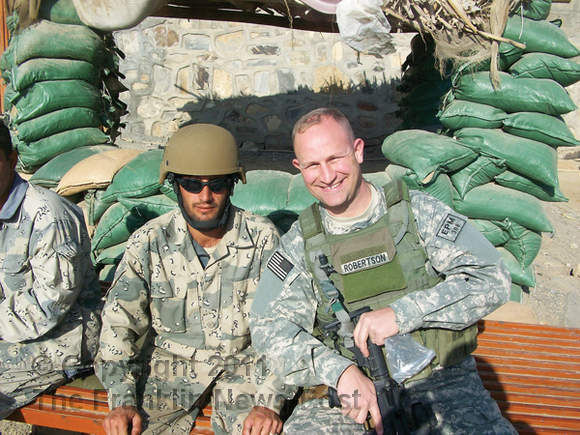 "Now, the way I look at it is, every day since Sept. 25 is a bonus day. That mortar blast should have killed me."
T.J Robertson, 38, a former Rocky Mount police officer, sat at his kitchen table Monday reflecting on why he believes an "angel was on his shoulder" that afternoon in Afghanistan.
Robertson suffered four major wounds from large pieces of shrapnel in addition to being struck all over his body by 24 pieces of steel, ranging from pellet to thumbnail size.
"Any one of the four big pieces could have killed me if they had hit in the right places," he said.
Before the shell hit, Robertson was in a group with a U.S. Army platoon, Afghanistan police and about 35 villagers in Pengrahm.
"We were trying to recruit them to assist local police. It's kinda like the Neighborhood Watch here," he explained.
To insure the group's safety, two Afghan platoons had set up screens on each side of the village as added protection.
"An F-16 fighter pilot flying above us reported seeing images on his plane's screen advancing on the village," he said. "The pilot requested permission to engage the suspect group but was denied because they hadn't done anything....yet."
The group that included Robertson started moving out of the village and came under small arms fire. The pilot took care of that problem, killing three and wounding five, who got away.
One of the soldiers had fallen behind while leaving the area when more small arms fire was heard.
Robertson was studying a map, trying to figure out how to reach the trapped soldiers when the shell exploded 10 meters away at 5:05 p.m.
An 82 mm mortar has a kill radius of 35 meters, he said. Six in Robertson's group survived but two Afghan officers standing closest to him died at the scene.
Three Black Hawk medivac helicopters were sent to pick up the wounded, along with two Apache helicopters providing protection for each of the Black Hawk craft, Robertson said.
A golf ball-sized piece of shrapnel had ripped through the muscle in Robertson's right thigh, cutting the major artery in half. The possibility of "bleeding out" was an immediate threat to his life.
"The shrapnel went through the front part of my leg and exited in the back. Medics put a tourniquet on my leg and then poured 'quick clot' to stop the bleeding. They also placed a tourniquet on my upper right arm," he said.
"We were all treated on the ground and were in the air within 15 minutes of the attack," Robertson continued. "We were flown to a shank' a forward operating base, where surgeons were waiting for us to arrive."
He was at the shank 8-10 hours before being flown to a trauma hospital at Baghram Air Force Field.
Robertson received additional treatment at the air base for the next five days.
Then on Sept. 30, he was flown to Dubai in United Arab Emirates near Saudi Arabia. For the next five days, he was stabilized for a transatlantic flight with a personal nurse to Washington, D.C.
"After landing in D.C., we flew to Roanoke, where I was transported to Carilion Roanoke Memorial Hospital. That was on Oct. 2," he said. "Two days later, doctors in Roanoke said I could go home and continue my recovery here."
It wasn't until he got back to his Franklin County mountaintop home off the Blue Ridge Parkway that Robertson was able to put weight on his leg and start taking steps once again.
"The leg is healing now," he said. "I started taking therapy treatments in Roanoke this week to regain strength in the damaged and weakened muscles. I can walk now but can't bend my right leg, nor do I have the strength needed to walk up steps. And I still can't drive."
However, it is his right hand that's going to take future operations to repair and months to heal.
"The shrapnel entered above my little finger and traveled across my hand, breaking all the bones and cutting two tendons before it exited in front of my thumb," he said.
Robertson also suffered a shrapnel wound in his right side that stopped short of damaging vital organs. A 3-inch scar now marks that entry point.
A 2-inch scar is still noticeable in his right jaw area. A thin piece of steel chipped a couple of his teeth before it stopped.
"Not realizing, I pulled that piece out of my face while I was feeling for blood," he said.
An orthopedic surgeon completed the first operation on his hand Oct. 11.
"My middle finger bone was destroyed. The surgeon put a cadaver bone in place and stabilized it to my wrist with two pins," he said. "A lot of medical advances have been made since Desert Storm in the '90s. Now, they've really gotten good at fixin' people."
Robertson spent four years in the U.S. Army as soon as he graduated from Floyd County High School in 1991. He also served 15 months in Iraq as a sniper with a Virginia Beach Army Reserve Unit. There, his job was to guard highways against insurgents sneaking to the road to place an improvised explosive device (IED).
While those memories are still in his mind, Robertson will never forget Sept. 25.
The mortar blast came just about a month shy of Robertson completing his one-year contract to "train and be a mentor to members of the Afghanistan National Security Force."
He was contracted on a rotation of working three months and off for two weeks. He also had every Friday off because it is a religious holiday in Afghanistan.
Robertson's wife, Julieann, is a sergeant with the Roanoke County Sheriff's Department. The couple has two children, Kenna, 15, a sophomore at Floyd County High School, and Hunter, 12, a seventh-grader at Check Elementary School.
Robertson was hired by the Rocky Mount PD in 2001. After his tour in Iraq, he returned to work with the department in February 2008. He resigned in September 2010 to become a soldier for a private contractor. He was one of the three wounded soldiers contracted by the private company employed by the U.S. Department of Defense. He is under contract not to disclose the name of his employer, where he is still on the payroll.
For now, Robertson is taking one day at a time and looking forward to starting therapy on his leg. In two weeks, he returns to see the surgeon to learn how much progress is being made on his hand.
"The swelling still needs to go down," he said, displaying his swollen fingers sticking out of a hard cast.
Robertson considers all that has happened in a positive way.
"There is no room for negativity in my life," he said.
Robertson hopes his hand will continue to show improvement, along with recovering the feeling in his fingers, especially his "trigger finger."
"I'm striving to get back to 100 percent or as close as I can get to it," he said. "I'd like to eventually return to the Rocky Mount PD, but it will depend on how the right hand heals."
For now, Robertson stays busy around the house while his wife is working and the children are in school. He keeps check on a flock of egg-laying chickens, takes his meds and keeps in touch with folks on his laptop computer. He also uses the computer to look at photographs taken in that far away, embattled country, known as Afghanistan.
Friends often drop by for a visit at his home at the end of a narrow, dirt, dead-end road off the Blue Ridge Parkway, far past the sign noting "End State Maintenance."