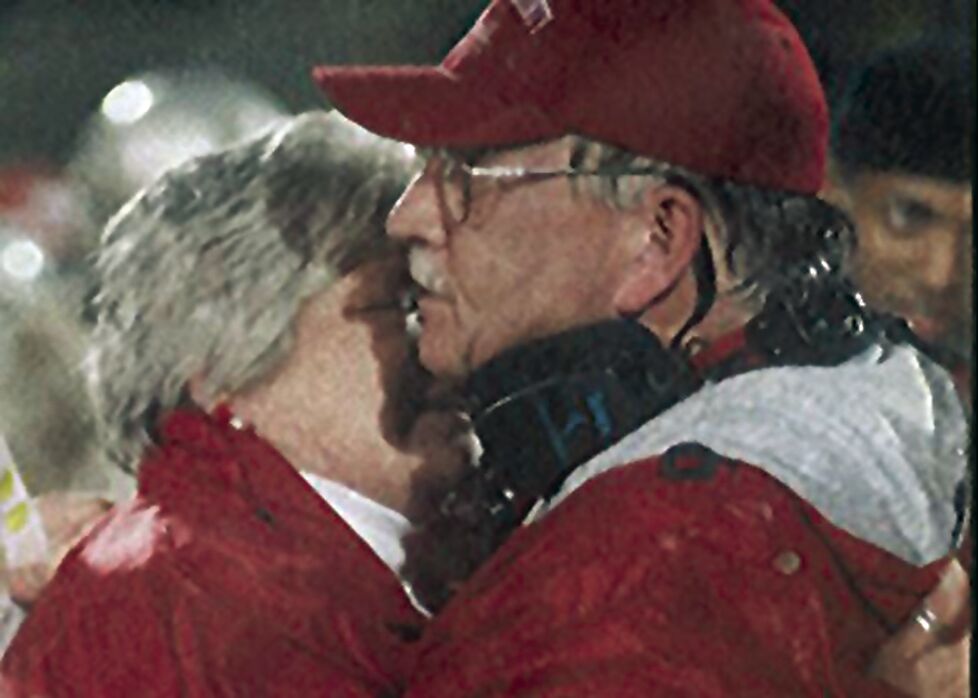 Franklin County adds five members — two past successful head coaches and three past decorated student-athletes—to its Sports Hall of Fame today.
Slated for enshrinement are former head football coach Billy Miles, former head volleyball and boys and girls cross country coach Jerry Saleeby, former standout cross country and track and field performers Travis Walter and David Angell and former swimming and soccer star Margaret Parcell-Bisnett.
The quintet comprises the Class of 2021. The Hall of Fame did not induct a class last year because of the COVID-19 pandemic.
An induction ceremony is scheduled for the high school this morning and the quintet is set to be honored at halftime of tonight's Blue Ridge District football game between the Eagles and William Byrd at C.I. (Cy) Dillon Stadium-Fred M. Brown Memorial Field.
Billy Miles, a decorated Vietnam combat veteran, served as FCHS's head football coach from 2000-2005 and finished his career with a 39-24 record.
Miles guided the Eagles to Western Valley District championships in 2001, 2002, 2003 and 2005
The Eagles advanced to the Group AAA Northwest Region playoff following the 2002, 2003 and 2005 seasons, losing in postseason play at Osbourn Park in 2002 and 2003 and at Osbourn in 2005.
Miles coached nine All-State players while at FCHS.
Miles, a social studies teacher during his tenure at the high school, has been married to his wife, Linda for 51 years and they reside in Salem. He is the father of three sons and is a grandfather of two.
Jerry Saleeby is the only coach at FCHS to win district championships in three sports: volleyball and boys and girls cross country.
His last year as a head coach was 2004; his daughter Erin was an FCHS senior (Class of 2005) that year. She ran cross country and was a girls' soccer standout.
In volleyball, Saleeby led FCHS to back-to-back Northwest Region championships in 1986 and 1987 and consecutive Roanoke Valley District titles in 1987 and 1988. FCHS was district runner-up in 1986, but the RVD got two regional berths that year because it was the host district for the region playoffs.
In 1987, FCHS finished fourth in the district's regular-season race, but was able to capture the league title.
In one week of postseason play, the Eagles won league tournament matches at Pulaski County High School on Monday, Tuesday and Wednesday and regional tournament matches in Charlottesville on Friday and Saturday.
FCHS won the RVD title in 1988, its first year as a five-team league as Northside and Salem had departed the district for the Group AA ranks.
FCHS lost to Woodbridge in the regional semifinals in an afternoon match played at Ramsey Hall Gymnasium.
A 1990 RVD tournament loss to Patrick Henry ended his volleyball head coaching tenure.
The next year, he took over the cross country program and the FCHS boys team captured the district title in his first season at the helm.
Former FCHS and Roanoke College standout David Angell was a freshman on that team. He would win back-to-back league individual championships during his junior and senior years.
In 1996, FCHS's girls won the district title.
In 1997 and 1998, Chekka Lash claimed back-to-back league individual championships.
In 2001, Saleeby guided the program into Western Valley District where E.C. Glass was the top team in both boys and girls. FCHS's boys team finished second to the Hilltoppers twice, the girls were three-time runners-up.
Former standout Adam Dickerson won the WVD individual title as a junior in 2002 and became the first FCHS boys runner to capture individual laurels in the Metro Invitational in 2003.
Brittany Killough, a three-year FCHS standout who finished her career at J.J. Kelly in Wise, won district championships, was a past multi-time runner-up in the Metro, finished third twice in the regionals and third and 12th in the Group AA state meet.
Saleeby guided the girls team to a state Group AAA bid in 2003.
Both of Saleeby's children have followed him into coaching- Erin Saleeby is the head women's soccer coach at Ferrum College and Evan Saleeby is Benjamin Franklin Middle School's boys soccer coach.
Travis Walter captured the Group AAA individual state championship in outdoor track and field in the boys' 3,200-meter (2-mile) run as an FCHS senior in 1988.
Walter also starred in cross country and indoor track and field at FCHS, earning all-district, all-region and all state laurels multiple times in those sport. He holds the school record for the boys' 3,200-meter run (9:24.55).
During his college career at Virginia Tech, Walter, who lives in Apex, N.C. with his wife and two sons, was a four-time All Metro Conference cross country runner, a three-time Metro Conference champion in indoor track, a a seven-time Metro Conference champion in outdoor track and was the 1993 Metro Conference Indoor Track and Field Athlete of the Year.
Walter represented Reebox , USA as a professional track and field runner from 1994-1997.
In 1996, he placed sixth in the 10,000-meter run in the U.S. Olympic Trials and was an alternate on the summer Olympic team that competed in Atlanta.
David Angell won back-to-back individual district championships in boys' cross country in 1993 and 1994, was a four-time district titleholder in indoor track and field and a two-time league champion in outdoor track and field.
At NCAA Division III Roanoke College, Angell was a five-time Old Dominion Athletic Conference (ODAC) champion in cross country and track.
He earned Academic All-America laurels, was the ODAC's Runner of the year in cross country in 1998 and Roanoke College's Male Athlete of the Year in cross country in 1999.
Angell is an eight-time USATF Masters Overall National Champion, competing 5K, 8K and 10K distances.
Margaret Parcell Bisnett has served as Ferrum College's men's and women's swimming coach since completing a stellar, four-year college career at Virginia Tech in 2015.
Bisnett, a Virginia Tech graduate, earned four letters in swimming for the Hokies and was a three-year scholarship performer.
Also, she competed in the Atlantic Coast Conference (ACC) championship tournament four times.
At FCHS, Bisnett competed in swimming and girls' soccer.
In girls' soccer, she was a four-year letter winner, two-time Western Valley District Player of the Year, played on league title teams in 2010 and 2011—the 2010 squad established the program record for wins in a season.
Also, Bisnett earned all-region and all-state accolades in soccer.
In swimming, Bisnett was a four-year letter winner, a seven-time district champion in the 50-yard freestyle, the 100-yard freestyle and 100-yard butterfly, and a four-time state qualifier.
The Eagles captured the Western Valley District title in 2011.
Bisnett holds program records in the 50-yard freestyle, the 100-yard freestyle and the 100-yard butterfly.
She is married to to former FCHS standout wrestler James Bisnett. The couple has one son and resides in Rocky Mount.